...more from
kooagency
---
Home
Up
About Insurance
The Personal Sentinel PA Version 3
Office Bearer's Liability
Group Personal Accident
Flexi PA
Autopac Cover
Householders
Houseowners
MedicaGen 200
Domestic Maid Insurance
Foreign Worker Comp. Scheme
Foreign Worker H & S Scheme
CondoPAC
Motor Insurance
Fire Insurance
Burglary Insurance
Golfer's Insurance
TravelPAC
Got an idea?

Got a query on claim?

Change your address?

Change your contacts?
Please forward to kooagency@yahoo.com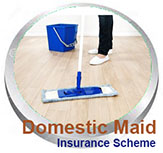 DOMESTIC MAID Insurance Scheme (DMIS)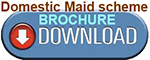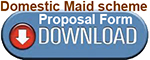 This scheme provides coverage for Accidental Death, Accidental Permanent Disablement, Repatriation Expenses, Hospitalisation & Surgical Expenses, and Weekly Benefit. In addition, this scheme also covers your Vicarious Liability to third parties (for bodily injury or damage to property) arising out of your maid's negligence.

All you want to know about..... DMIS
- CONTENTS -

Domestic Maid Insurance Scheme
Benefits
Premium Rate
Enrolment Procedures
Claims Procedures

HOW TO OBTAIN A PROPOSAL FORM?

Print a proposal form by clicking here ; or
Request a proposal form via email and we will email you the proposal form; or
Call/SMS 012-6597262 for a proposal form.

HOW TO SUBMIT THE PROPOSAL FORM AND MAKE THE PAYMENT?
You may choose any of the following ways to submit your completed form:-

By FAX - Koo Agency Fax No.: 03-8081 2294; or
By EMAIL - Email us the completed scanned copy of the proposal form; or
By POST - Mail to Koo Agency, N0. 9, Jalan Industri USJ 1/12, Taman Perindustrian USJ 1, 47620 Subang Jaya

You may also choose your preferred way of payment as follows:-

By CREDIT CARD (Visa or MasterCard) - Print a copy of this "Credit Card Instruction Form" and enclosed the completed form with the proposal form; or
By CHEQUE - Enclosed your payment cheque together with the proposal form. Kindly make cheque payable to "Zurich Insurance Malaysia Berhad"; or
By BANKIN or ONLINE TRANSFER - Direct bankin or online transfer to either i) Koo Agency MAYBANK Account No.: 5123-611-44-193 or ii) Koo Agency ALLIANCE BANK Account No.: 1211-800-1000-4155. If by bankin, please email or fax a copy of the bankin slip together with the proposal form.

PAYMENT BY CASH IS NOT RECOMMENDED
Insurance services provided by kooagency
---