...more from
kooagency
---
Got an idea?

Got a query on claim?

Change your address?

Change your contacts?
Please forward to kooagency@yahoo.com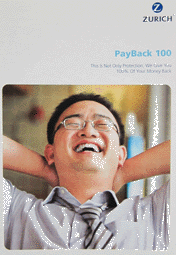 Payback 100
PB 100
.....It's not only protection, we give you 100% of your MONEY BACK!!!
WHAT IS PAYBACK 100 (PB100)? PB100 gives you a high protection at a low cost. It provides Accidental Death & Disability Benefit with Double Indemnity + Death & TPD (due to any cause) + a Full Refund of Premiums Paid upon maturity (at the end of 20th year)!

WHO IS ELIGIBLE? You are eligible to be insured if you are between the age of 10 and 55 years old. However, the applicant/policyholder must be 18 years old and above.

DOES THIS POLICY PAY IN ADDITION TO OTHER INSURANCE PLANS THAT I HAVE? YES, it does. This policy will pay on top of any other existing policy that you may have.
You should satisfy yourself that this plan will best serve your needs and that the premium payable under the policy is an amount you can afford. This information is not a contract of insurance. The description of the available cover is only a brief summary for quick and easy reference. The precise terms and conditions that apply are stated in the policy contract.
If you wish to apply for the Payback 100 coverage, just instruct us by e-mail and we will be sending you the Official Application Form
---
Click Here To return to other Insurance Services & Details